2 Places In One Evening
February 14, 2012
Meet the girls, have some lunch at this new cafe, look for some DVDs, and then have dinner in the other new cafe on our way back home. Yep, 2 cafes in a row! It was a heavy rainy day and we didn't feel like going home so.. why not trying some new dishes?? :)
Now here is the first one, caled Krang Kring. I love how they put stickers on the glass walls, lovely! Once get in, I do like their nice interior, but I still could smell the scent of the woods. I don't know if they are deliberate to do that, or they are running out of time to finished the furniture and just put it there anyway. Hmmm..
Another thing to be noted is the waitress that was serve us. No offense but I think they should have trained all of the waiters & waitresses before opening but all I got yesterday was a total failure. They keep saying "I don't know" every time we asked about the dishes on the menu, oh please..!! (-_- !)
About the dishes.. some were good, and the other were so-so..
KrangKring
Jl. Ciliwung No.1-3
Bandung
West Java - Indonesia
OK, move to the other place.. Three To Five Cafe. I have been seeing this cafe for a while but haven't got time to tried it until yesterday. Interesting name! At first I thought that they only open from 3 to 5 pm, hehee.. :P
The interior is simply nice and homey. Suitable for family or friends gathering. Love this one side of the room! They made it really looks like a living room with a fake fireplace, chandelier, a mirror and some pictures on its wall, nice!
They also have this Afternoon Tea History attached on one of their wall.
We ordered Tiramisu Coffee, Green Tea Milkshake, Chamomile Tea, Three To Five Sundaes and a Caesar Salad. Frappe and Milkshake were quite nice.
As I walk around the shop, I found this cute little hello kitty on the top of a cupcake and I was like "kyaaa~" it's too cute!! I ordered it directly and got it beside my frappe and took a bite but then.. oooh gooossshhh.. it taste far away from the looks.. I feel like I wanna cryyy.. huwaaaa~!! (T-T)
The cupcake beneath the topping was horrible! So hard that made me really thought it was from days ago. :(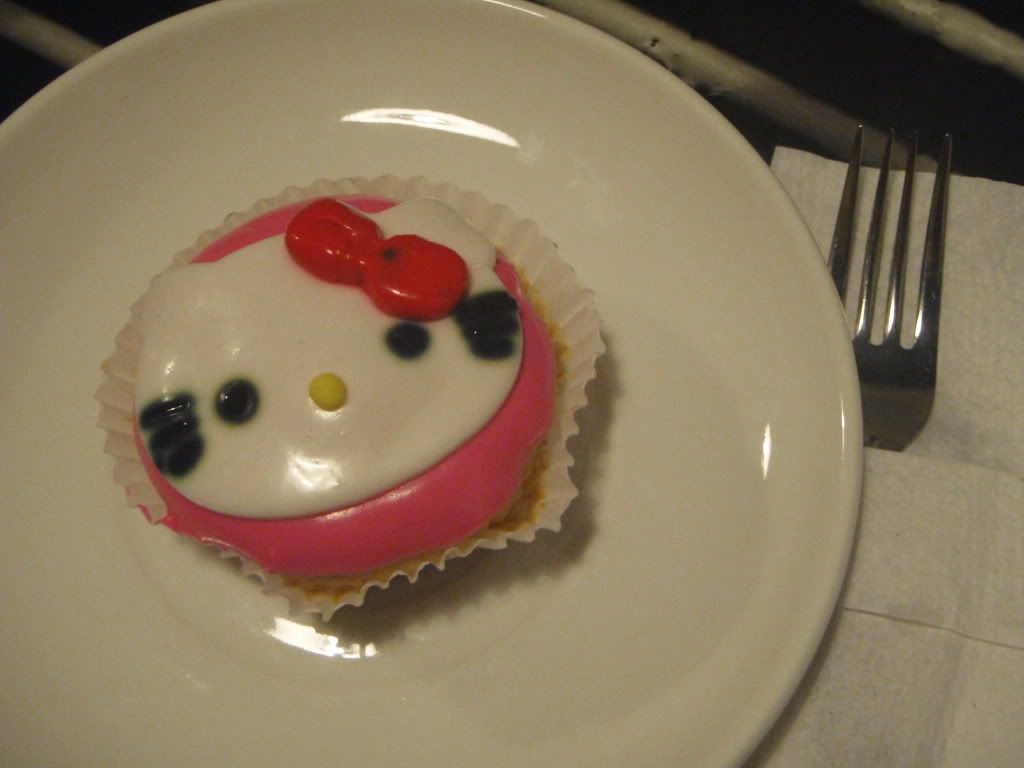 Three To Five
Jl. Ciliwung No.15
Bandung
West Java - Indonesia
For all of the patissier or pastry chefs out there.. please do care about the taste of your baked goods, not only on their look..!!
Anyway, Happy Valentine dear youuu~!! :D